Jeroen spent 10 weeks working for NEMACO this past summer and this is his story of his time with us and our local Madagascar team:
My name is Jeroen Francoys and I spent the first 5-6 years living in Portugal, moving there one month after I was born in the Netherlands. Although I was really young I feel this, and seeing my parents move across the globe again later, have triggered my interest to work in an international setting. Accordingly, I chose to study International Business Administration (Bachelor) and Finance & Investments (Masters) at the Erasmus University in Rotterdam. Afterwards I started working at EY (Ernst & Young), a global accountancy and advisory firm, based in Amsterdam mainly serving larger multinational assurance clients. My career got me to live in London and Chicago for short periods and requires me to travel a lot which I very much enjoy. Travelling both for work and privately allows you to experience a country in different ways.
How I ended up swapping Amsterdam for Tuléar, Madagascar
I joined the NEMACO and WECONNEX team for a 10 week period as part of EY's corporate social responsibility program, EY Ripples. When I noted the opportunity to work with NEMACO in Tuléar as part of EY's Ripples program I got really excited as it allowed me to
work with social impact entrepreneurs that aim to directly build a better world by applying an innovative business model (ultimately contributing to achieving the SDGs)
gain experience working with a company in a completely different stage, industry and overall business environment than my regular clients
have a truly international experience/adventure.
I applied and after a first introduction call with WECONNEX we started the planning for the project!
And so it began…
I arrived in Tuléar in June when NEMACO was in an interesting phase: the week before the first three NEXUS Centers started trading fishery products. It soon became clear to me there are so many things to think about when you operationalize…
In my first week I organized an EY Growth Navigator session. EY Growth Navigator is an EY tool to help management to assess their company's capability to deliver its growth plans, at the same time it was a good way for me to get to know the team, the Company and think about the project direction.
Subsequently, as the trading of fishery products commenced, I started by assessing operational and finance processes and suggested ways to implement more structure (who is doing what, when, how, what is recorded where, etc.), key controls, compliance guidelines…
By connecting NEMACO with EY Madagascar it also allowed me to learn more about the country's regulatory environment, in the area's of financial reporting and tax as well as operational (e.g. with respect to required operational licenses). It surprised me how complex the tax environment in Madagascar is, mixing different tax regimes at the national level with regional and community tax that are specific to the fishing industry.
Apart from the above I really enjoyed to help out wherever I could, from carrying around fish (when the fresh products arrived in Tuléar) to thinking about the sales and marketing plan and actually joining the team on a sales trip to Isalo.
Comparing the two working worlds
It depends on how you look at it. At a start-up like NEMACO everything from culture to processes and procedures is very different from the larger multinationals I normally work with. The change of scenery and lack of extensive bureaucracy was very refreshing for me. Also the diversity in terms of involvement in different functional areas from finance, procurement, supply chain to sales is really interesting. It sometimes resulted in me accompanying a 300 KG batch of fresh fishery products on a Zebu cart and then having clients walk in to buy fish that was stored right next to my desk which is quite a contrast to my "normal" job. At the same time there are a lot of things that are similar to a certain extent; working in a team, calls, update meetings, defining action points / priorities and dealing with new challenges every day but definitely also celebrating the steps that are made.
My view on NEMACO achieving its vision
Based on what I have seen firsthand during my time with NEMACO I really believe this project has the potential to take off and reach the intended scale. There have been a lot of challenges and surely there will be more in each stage of NEMACO's development but the team always finds solutions and I feel, in a very short period, a lot of progress has been made in terms of defining operational procedures, understanding the market and building up a client base in different customer segments. This will provide a good basis for opening additional NEXUS Centers South of Tulear and expanding the project's reach.
It was great to see the positive social impact in terms of the creation of jobs, stabilizing smallholders income and providing access to basic services (including clean drinking water), especially in the most rural communities (where I see the NEXUS concept working best). On the social impact side a very interesting challenge will be finding a way to involve the local communities as partners and ultimately co-owners of NEMACO considering the level of development in the rural communities NEMACO operates. I am very curious to see how this will develop and how NEMACO will make this work out in practice.
In terms of ecological impact NEMACO already minimizes its footprint through the use of renewable energy in its operations in the field and enforces the use of sustainable fishing practices through its buying policies (specifying restricted species (during specific periods), minimum fish sizes, etc. that are not purchased by NEMACO). But I expect NEMACO will take significant steps to increase its ecological impact, especially as the percentage of local fishermen in each village selling products to NEMACO increases allowing the Company to better enforce policies promoting sustainable fishing practices (beyond its purchase policies) and training efforts.
The project was a memorable experience in itself, with many unique moments. Some selected moments include:
The warm welcome I received that made me feel part of the NEMACO / WEXONNEX from day one;
Adrian flying over from Switzerland to see a trial run of the NEXUS Centers being operational but the fishermen did not show up because they were hung-over from the Independence day party the night before;
The first batch of fish arriving in Tulear;
Nirina (CFO) smiling for days because Josoa (Center Manager) fell in the water when the NEMACO fish arrived in the port of Tulear;
The Isalo field trip, for example negotiating with the local restaurant that the NEMACO team would only have dinner at their restaurant if the team could eat a NEMACO fish;
Sitting in between lot's of fish, with new customers walking into the NEMACO office to buy them;
The opening of the NEMACO shop;
Team dinner and my goodbye (photo below);
In general, ordering something in a restaurant and knowing it is very likely the waiter will forget your order and/or you get something else, ultimately starting your dinner 1,5 hours later. Nobody is troubled;
So many more…
For me in my daily job, this experience has given me a greater appreciation of how broad my clients roles can be. Personally, the poverty and situation in the region has been confronting and helps to appreciate what you have back in the Netherlands.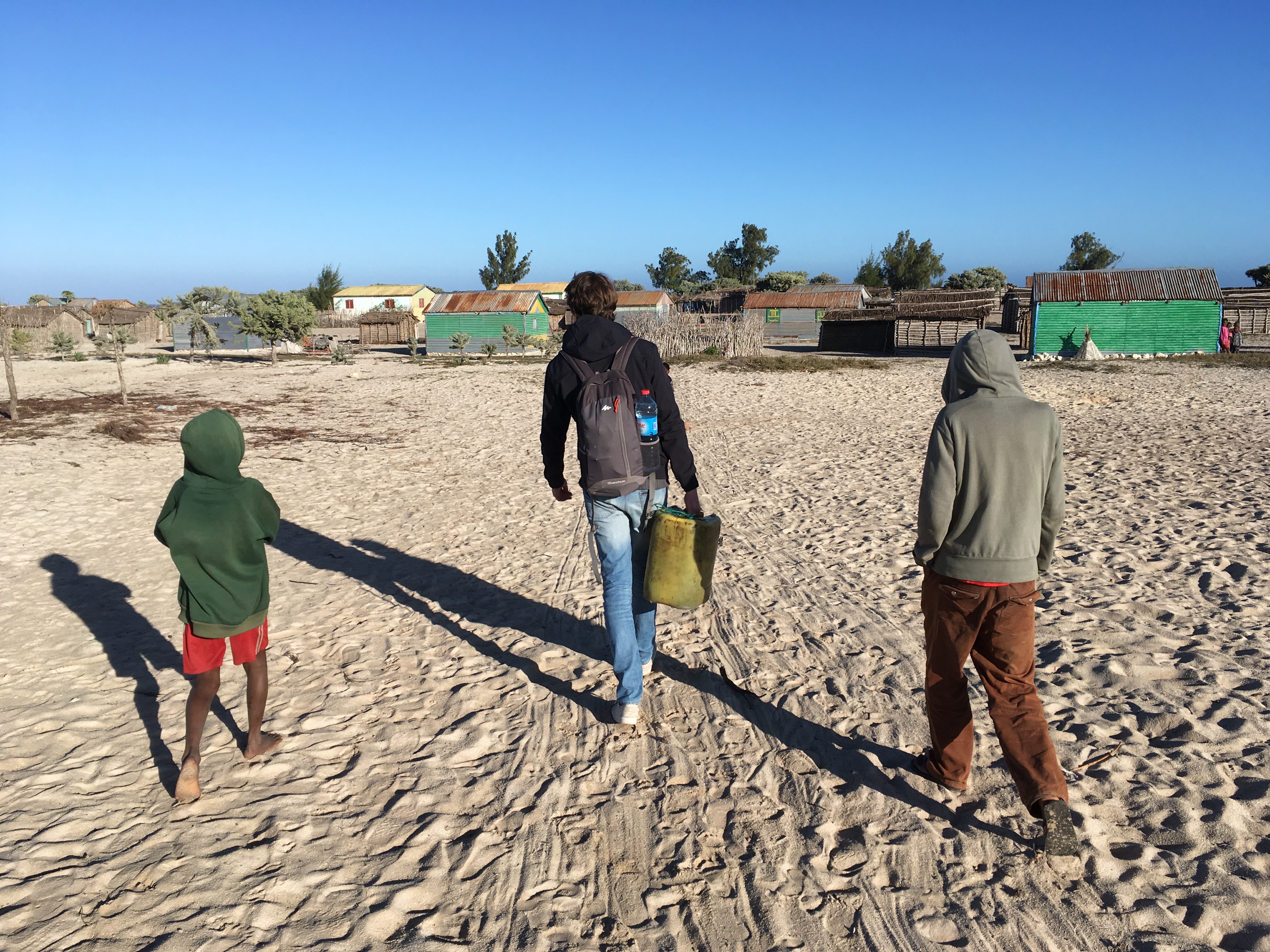 Source: nexus ch